Our History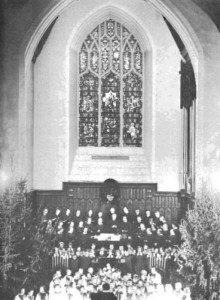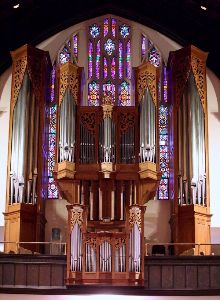 The origins of First Presbyterian Church, Wooster Ohio, go back to 1815 when fifteen Scottish and Irish settlers gathered in a home on West Liberty Street to form a Presbyterian Congregation. A small brick building was erected there for worship. As the congregation grew, land for the second church building at the corner of North Walnut and West North Streets was donated by John and Elizabeth Christmas in 1848. In 1927, the cornerstone for a neo-gothic building was laid at the corner of College Ave and East Bowman Street, where the present sanctuary and related structures were erected. In 2005, the congregation undertook another major addition to better equip this historic congregation for ministry in the 21st century.
While in the Walnut Street building, during the pastoral leadership of the Rev. James Reed, the congregation organized the College of Wooster under the auspices of the Ohio Synod of the Presbyterian Church. Church member Ephraim Quinby gave twenty acres on the hill above the present building for the college seat, becoming one of the first trustees. Another church member, John Kauke, also a college trustee, provided funds for an early classroom building which now bears his name. During the same years, twenty-five First Presbyterian Church members formed and chartered Westminister Church to provide a campus congregation for college students. Our ties with both the college and Westminster Presbyterian Church remain firm, with Reverend David Rice currently serving on the Board of Trustees for the College of Wooster.
First Presbyterian Church has always focused on the needs of the community through a variety of educational and mission outreach ministries that continue to this day. The church has provided a meeting place for the Boy Scout troops since 1936, Members of First Presbyterian helped to establish and provide a safe place for The Wee Care Center starting in 1964, which provided before and after school care for working mothers. It became an independent organization in 1976 but remained within our facility until 2021. That area of the church is now being used by the YMCA for their Creative Academy Childcare & Preschool. In 1980 a house on the church property began to be used by People-to-People Ministries, and many members of the church helped with the expansion of their facilities over the years next door as well as supporting their various programs with donations of time, money, food, toys, and clothing.
In 2015, First Presbyterian Church celebrated it's bicentennial year with the publication of the book "First Presbyterian Church: Two-Hundred Years of Tradition and Service in Wooster, Ohio" which details the history of those first 200 years. If you are interested in reading the complete history in this volume, please contact the church office.